Fore! The Arts Golf Classic
About the Event
Please join us for the third annual Fore! The Arts Golf Classic on Friday, July 28, 2023. The Golf Classic features an exciting day of golf at The Youngstown Country Club, followed by a cocktail reception with a lunch buffet and presentation of prizes. The event will directly benefit each of the collaborating organizations and is made possible by our generous sponsors and donors!
Sponsorship & Team Opportunities
Please see the below list of sponsorship opportunities. Each level of sponsorship comes with unique benefits including various recognition opportunities at the golf event as well as team registration. As a sponsor, you will be displaying your support for the area's nonprofit performing arts organizations in the Mahoning Valley. Your sponsorship will support programming for the upcoming season and educational outreach activities.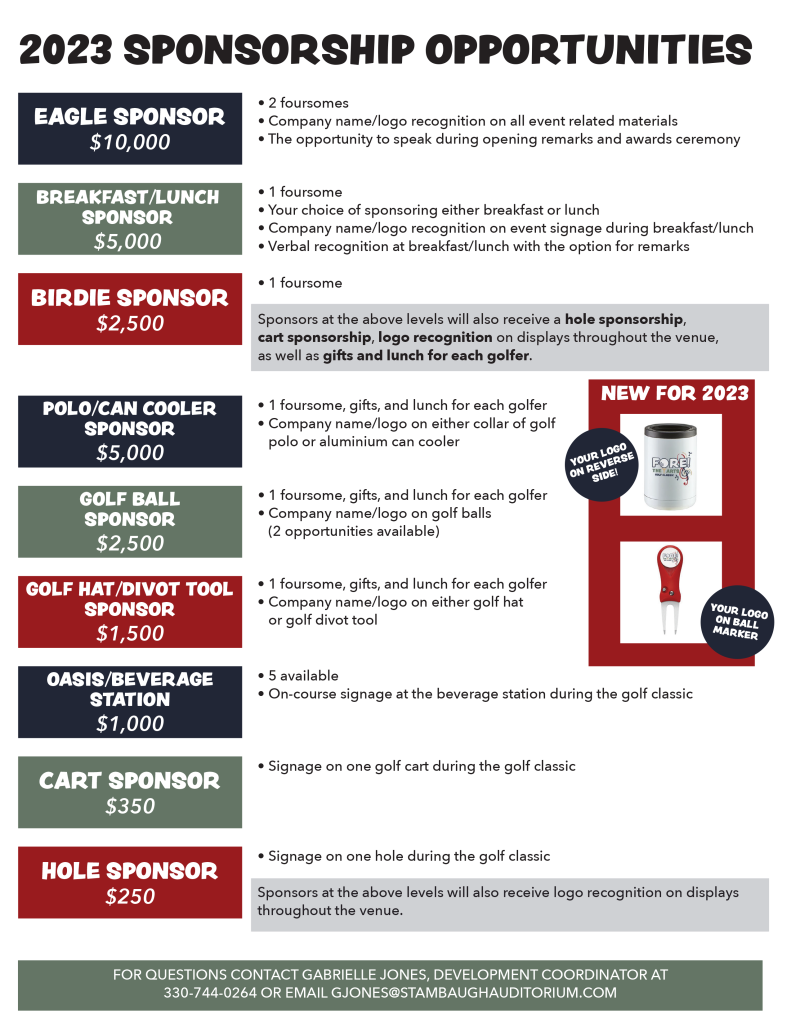 Thank You!
Many thanks to all of the sponsors, the event committee and volunteers and each and every golfer who helped to make the first ever, Fore! the Arts Golf Classic such a tremendous success. A total of $78,000 was raised to benefit Opera Western Reserve, Stambaugh Auditorium, The Youngstown Playhouse, and the Youngstown Symphony Society. 
Premier Sponsors:
DeSalvo Construction Company, Inc.
YSU Cliffe College of Creative Arts
Major Sponsors:
Premier Bank
Corporate Sponsors:
Gardiner
Independent Dialysis Group
Golfer Gift Sponsors:
DeSalvo Construction Company, Inc.
Gasser Chair Company
Mercy Health Foundation Mahoning Valley
Simon Roofing
Stifel – Scott Schulick
University Electric
Oasis Sponsors:
Prout Boiler
Msgr. Robert J. Siffrin
The Youngstown Playhouse
Team Sponsors:
21 WFMJ
BSHM Architects
GPD Group
HBK CPAs and Consultants
Jaminet Engineering LLC
JM Verostko Engineering Consulting
Kilpatrick, Karzmer and Yerian Insurance Group
Mercy Health Foundation Mahoning Valley
Morgan Stanley
Packer Thomas
Phantom Fireworks
Regional Chamber
Schmutz Family Foundation
Schroedel, Scullin and Bestic,
LLC
SERVPRO
STG Communications
Stifel
TIMBRE
University Electric
Wee Ones Pediatrics