Thorgy Thor and the thorchestra
Thursday, September 21, 2023 - 7:30 pm
From Brahms to Bruno Mars! NYC based drag performance artist and professional strings musician, Thorgy Thor, joins conductor Lawrence Loh and Your Youngstown Symphony Orchestra for a night that is sure to remember.
This performance will include some mature themes, so adult supervision and audience discretion is advised.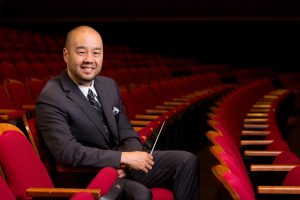 Described as bringing an "artisan storyteller's sensitivity… shaping passages with clarity and power via beautifully sculpted dynamics… revealing orchestral character not seen or heard before" (Arts Knoxville) Lawrence Loh enjoys a dynamic career as a conductor of orchestras all over the world.
As Music Director of Symphoria, the successor to the Syracuse Symphony, Lawrence Loh has helped to build a 21st century model of a modern symphony orchestra. "The connection between the organization and its audience is one of the qualities that's come to define Syracuse's symphony as it wraps up its 10th season, a milestone that might have seemed impossible at the beginning," (Syracuse.com) Symphoria and Lawrence Loh show that it is possible to create a "new, more sustainable artistic institution from the ground up."
Appointed Assistant Conductor of the Pittsburgh Symphony in 2005, Mr Loh was quickly promoted to Associate and Resident Conductor within the first three years of working with the PSO. Always a favorite among Pittsburgh audiences, Loh returns frequently to his adopted city to conduct the PSO in a variety of concerts. Mr. Loh previously served as Music Director of the West Virginia Symphony Orchestra, Music Director of the Northeastern Pennsylvania Philharmonic, Artistic Director and Principal Conductor of the Syracuse Opera, Music Director of the Pittsburgh Youth Symphony Orchestra, Associate Conductor of the Dallas Symphony Orchestra, Associate Conductor of the Colorado Symphony Orchestra and Music Director of the Denver Young Artists Orchestra.
Mr. Loh's recent guest conducting engagements include the San Francisco Symphony, Dallas Symphony, North Carolina Symphony, Baltimore Symphony, Sarasota Orchestra, Florida Orchestra, Pensacola Symphony, Atlanta Symphony, National Symphony, Detroit Symphony, San Diego Symphony, Seattle Symphony, National Symphony (D.C.), Utah Symphony, Rochester Philharmonic, Indianapolis Symphony, Calgary Philharmonic, Buffalo Philharmonic, Albany Symphony and the Cathedral Choral Society at the Washington National Cathedral. His summer appearances include the festivals of Grant Park, Boston University Tanglewood Institute, Tanglewood with the Boston Pops, Chautauqua, Sun Valley, Shippensburg, Bravo Vail Valley, the Kinhaven Music School and the Performing Arts Institute (PA).
As a self-described "Star Wars geek" and film music enthusiast, Loh has conducted numerous sold-out John Williams and film music tribute concerts. Part of his appeal is his ability to serve as both host and conductor. "It is his enthusiasm for Williams' music and the films for which it was written that is Loh's great strength in this program. A fan's enthusiasm drives his performances in broad strokes and details and fills his speaking to the audience with irresistible appeal. He used no cue cards. One felt he could speak at filibuster length on Williams' music." (Pittsburgh Tribune)
Mr Loh has assisted John Williams on multiple occasions and has worked with a wide range of pops artists from Chris Botti and Ann Hampton Callaway to Jason Alexander and Idina Menzel. As one of the most requested conductors for conducting Films in Concert, Loh has led Black Panther, Star Wars (Episodes 4-6), Jaws, Nightmare Before Christmas, Jurassic Park, Casablanca, The Wizard of Oz and Singin' in the Rain, among other film productions.
Lawrence Loh received his Artist Diploma in Orchestral Conducting from Yale, his Masters in Choral Conducting from Indiana University and his Bachelor of Arts from the University of Rochester. Lawrence Loh was born in southern California of Korean parentage and raised in Carlisle, Pennsylvania. He and his wife Jennifer have a son, Charlie, and a daughter, Hilary. Follow him on instagram @conductorlarryloh or Facebook at @lawrencelohconductor or visit his website, www.lawrenceloh.com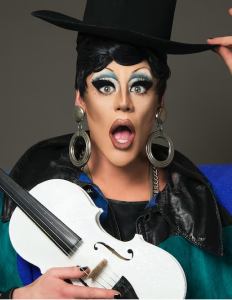 Thorgy Thor is a NYC based drag performance artist, event host, TV personality and professional musician.
Thorgy was a contestant on the Emmy Award winning show Rupaul's Drag Race Season 8 and Rupaul's Drag Race All Stars Season 3. She has also appeared on Amazon's Mozart and the Jungle , VICE, WWHL with Andy Cohen and is a cast member of Dragnificent! on TLC/Hulu.
Thorgy Thor has toured the world with MPpresent Haters Roast comedy tour & A Drag Queen Christmas for the past 4 years.
Thorgy Thor has had the honor of playing solo violin, viola and cello in Thorgy and the Thorchestra with the Pittsburgh Symphony Orchestra, Vancouver Symphony Orchestra, Symphony Nova Scotia, Thunder Bay Symphony Orchestra, Charlotte Symphony Orchestra and has debuted a solo show at Gramercy Theater in NYC in 2019.
Leonard Bernstein - Overture to Candide
Jacob Gade - Jalousie Tango
***Thorgy Improv***
Johannes Brahms - Hungarian Dance No. 1 in G Minor
Aram Khachaturian - Sabre Dance
Rogers & Hammerstein - I Enjoy Being A Girl
Irving Berlin - Anything You Can Do
Johann Strauss/Lady Gaga - Blue Danube/Born This Way

-INTERMISSION-

Georges Bizet - Torreadors from Carmen
Camille Saint-Saens - Dance Macabre, Thorgy Violin
Aaron Copeland - Hoedown from Rodeo
Reinhold Gliere - Russian Sailors Dance
Wolfgang Amadeus Mozart - Eine Kleie Nachtmusik II. Romanze
Mikhail Glinka - Russlan and Ludmilla Overture
Bruno Mars, Arr. Lopez - Uptown Funk
See program advertising options below.