The Vindys Meet Your Youngstown Symphony
Friday, April 26, 2024 - 7:30 pm
Hometown favorites "The Vindys" join Maestro Erik Ochsner for a symphonic collaboration you won't want to miss!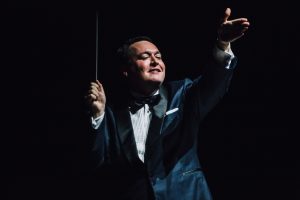 Erik Ochsner is considered by audiences and critics alike to be one of the leading film-with-live-orchestra conductors due to his energy, attention to detail and precise synchronization. Equally comfortable on the concert stage or leading opera, oratorio and multi-media performances, he has performed in Adelaide, Athens, Beijing, Calgary, Dallas, Detroit, Indianapolis, Jakarta, Kitchener-Waterloo, Krakow, Leipzig, Louisiana, Melbourne, México City, Montreal, Moscow, Nashville, New York, Ottawa, Portland, Reykjavik, Richmond, Rochester, Round Top, San Francisco, Seattle, Shanghai, Sofia, South Bend, St. Louis, St. Petersburg, Stockholm, Sydney, Taipei, Tampere, Tokyo, Vancouver, Youngstown, and Wellington, NZ.
Ochsner was invited to conduct the world premiere of Mary Poppins in Concert (1964) at the Sydney Opera House; was Principal Touring Conductor of La La Land Live in Concert, for which he conducted 50 performances of Justin Hurwitz's Academy Award and Grammy Award winning score across the globe, and on 40 hours' notice, he flew to Taiwan to conduct Beauty and the Beast in Concert to fill in for an ailing colleague! His versatility as a conductor has stretched across a broad range of repertoire: from conducting as few as five performers in contemporary and
modern works, to leading 300 performers in Live to Projection film concerts.
Last year Ochsner made his debut with both the Youngstown Symphony Orchestra and the South Bend Symphony leading performances of Ghostbusters: Live in Concert! He also conducted a Día de Muertos concert in Sound Bend. With the Vancouver Symphony, he conducted Star Wars in Concert: Episode 6: Return of the Jedi; and will return with Star Wars in Concert: Episode 7: The Force Awakens in 2023. With Montreal's FILMharmonique, he has conducted Star Wars in Concert: Episode 4: A New Hope and Star Wars in Concert: Episode 5: The Empire Strikes Back and will return for Star Wars in Concert: Episode 6: Return of the Jedi in May 2023.

Ochsner's long relationship with the Krakow International Film Music Festival have been hugely successful leading sold-out performances in a 16,000-seat arena of Pixar in Concert, Frozen and Beauty and the Beast (both performed in Polish), plus Disney in Concert: The Magic of Music with the Krakow Film Festival Youth Orchestra.
Other films he has conducted: Back to the Future, Batman, Bugs Bunny at the Symphony, E.T. the Extra-Terrestrial, Ghostbusters, Lord of the Rings: Fellowship of the Ring, Love Actually, Pirates of the Caribbean, Star Trek (2009), and Star Trek Into Darkness. Ochsner is Founder and Music Director of SONOS Chamber Orchestra. SONOS has premiered 4 SONOS commissions; 2 world premieres, 13 US premieres and 3 New York premieres. Recordings include Brian Wilbur Grundstrom: An Orchestral Journey (CD), and Tan Dun's Tea: A Mirror of Soul (DVD). Ochsner premiered The Music of Star Wars with the National Arts Centre Orchestra in Ottawa, a full-length evening production featuring the music of John Williams and video game composer Gordy Haab plus the Canadian performers Charlie Ross and Émilie Fournier; was Music Director and conductor of the 2017 Opera America New Works Showcase and was a Guest Conductor at the Nanjing (China) Forest Music Festival. In 2021-2022, he has served as Artistic Advisor to Schirmer Theatrical.
Ochsner attended The Pierre Monteux School, is a graduate of Dartmouth College and is a proud Finnish American dual citizen. He lives in New York City, loves travelling, wine and collecting requiem recordings. www.erikochsner.com plus Facebook, Instagram, and Twitter.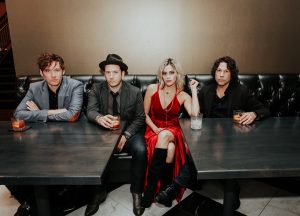 The Vindys have become one of the most sought-after bands in the Northeast Ohio area with their unique blend of alt-rock that Cleveland Magazine says, "…reminds us of the Black Keys," and "…make us want to dance, whether we're in a grimy dive bar or a field in Lake County." Their album, Bugs, is out now.
The Youngstown, OH based band is led by powerhouse singer / songwriter / guitarist, Jackie Popovec who The Repository says "…uncannily evokes Amy Winehouse on the more retro songs while going full-tilt rock 'n' roll on the harder, moodier numbers." WKBN-TV (CBS) calls the band "… one of the hottest acts in the area… Canfield's Jackie Popovec — her voice is a blend of Amy Winehouse and Norah Jones." The Beaver County Times boasts "…Popovec will grab you immediately. She sounds sweet and sultry, vulnerable and persevering." Rounding out the band is John Anthony on guitar/harmony vocals, and Rick Deak on guitar/harmony vocals. The Vindys "Family Band" includes drummer Owen Davis, bassist Brendan Burke, keyboardist Nathan Anthony and the Youngstown Horns featuring Kyle O'Donnell on trumpet, Brian Mayle on trombone, and Garret Kuchmaner on saxophone. All are classically trained musicians who combine their skills, Popovec as the primary songwriter, and arrangements by the band, resulting in a depth and maturity in their music that is intricate, yet relatable.
Because they are passionate about representing Youngstown as a place where the music scene is thriving. Their name pays homage to their roots by drawing influence from Youngstown's daily newspaper, The Vindicator. Brad Savage, program director of The Summit 91.3 FM, explains, "To me, they really personify Youngstown and northeast Ohio. They've got depth and substance and are instantly likable. Their songs get stuck in your head after one listen."
The band has performed at various festivals including WonderStruck, WonderRoad, WonderBus, Three Rivers Arts Festival, LaureLive, Winnetka Music Festival, Women Who Rock, and Summerfest where the band won the first day of the Emerging Artist Series selected by voters on Twitter. Additionally, The Vindys have shared the stage with Pat Benatar, Walk Off the Earth, Rita Wilson, Orianthi, The Drive-By Truckers, Marty Stuart, Hunter Hayes, Reeve Carney, and more.
Currently the Vindys are endorsed by EarthQuaker Devices, Heil Sound and Ultimate Ears Pro.
See program advertising options below.