Saturday, October 8, 2022 - 7:30 pm & Sunday, October 9, 2022 - 2:30 pm
Join the original paranormal investigation and elimination team, and of course Your Youngstown Symphony Orchestra for a nostalgic ride through Elmer Bernstein's Grammy-nominated score. Guest conductor, Erik Ochsner, will take the podium as
Ghostbusters
is screened live. The two-time Oscar and Golden Globe-nominated film by Ivan Reitman stars Bill Murray, Dan Aykroyd and Harold Ramis, co-starring Sigourney Weaver, Rick Moranis, and Ernie Hudson.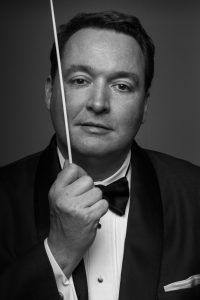 Erik Ochsner's versatility as a conductor has stretched across a broad range of repertoire: from conducting as few as five performers in contemporary and modern works, to leading 300 performers in Live to Projection film concerts. As Principal Touring Conductor of La La Land Live in Concert, he has conducted 50 performances of Justin Hurwitz's Academy Award and Grammy Award winning score. He is considered by audiences and critics alike to be one of the leading film-orchestra conductors due to his energy, attention to detail and precise synchronization. In 2018, Ochsner was invited to conduct the world premiere of Mary Poppins in Concert (1964) at the Sydney Opera House; made his debut with the San Francisco Symphony conducting Love Actually, and on 40 hours' notice, he flew to Taiwan to conduct Beauty and the Beast in Concert to fill in for an ailing colleague!
Ochsner has a long relationship with the Krakow Film Music Festival where he led sold-out performances of Pixar in Concert and Polish language versions of Frozen and Beauty and the Beast. He returns in 2019 to conduct a special performance of A Disney in Concert: The Magic of Music with the Krakow Film Festival Youth Orchestra.
He recently led performances of Star Wars in Concert: Episode 4: A New Hope with the Montreal FILMharmonique. Upcoming performances include Star Wars in Concert: Episode 5: The Empire Strikes Back in Tainan, Taiwan on May the fourth ("International Star Wars Day!"); Pixar in Concert in Taipei, Taiwan; Batman (1989) in Portland, Oregon, featuring the Grammy Award winning score of Danny Elfman; and Ghostbusters in Alabama!
Other films he has conducted include Back to the Future, Bugs Bunny at the Symphony, E.T. the Extra-Terrestrial, Lord of the Rings: Fellowship of the Ring, Pirates of the Caribbean, Star Trek (2009), and Star Trek Into Darkness. Ochsner premiered The Music of Star Wars with the National Arts Centre Orchestra in Ottawa, a full-length evening production featuring the music of John Williams and video game composer Gordy Haab; was Music Director and conductor of the 2017 Opera America New Works Showcase and was a Guest Conductor at the Nanjing (China) Forest Music Festival. Ochsner is Founder and Music Director of SONOS Chamber Orchestra. Recordings include Brian Wilbur Grundstrom: An Orchestral Journey (CD), and Tan Dun's Tea: A Mirror of Soul (DVD).
Ochsner attended The Pierre Monteux School, is a graduate of Dartmouth College and is a proud Finnish-American dual citizen. He lives in New York City, loves travelling, wine and collecting requiem recordings.