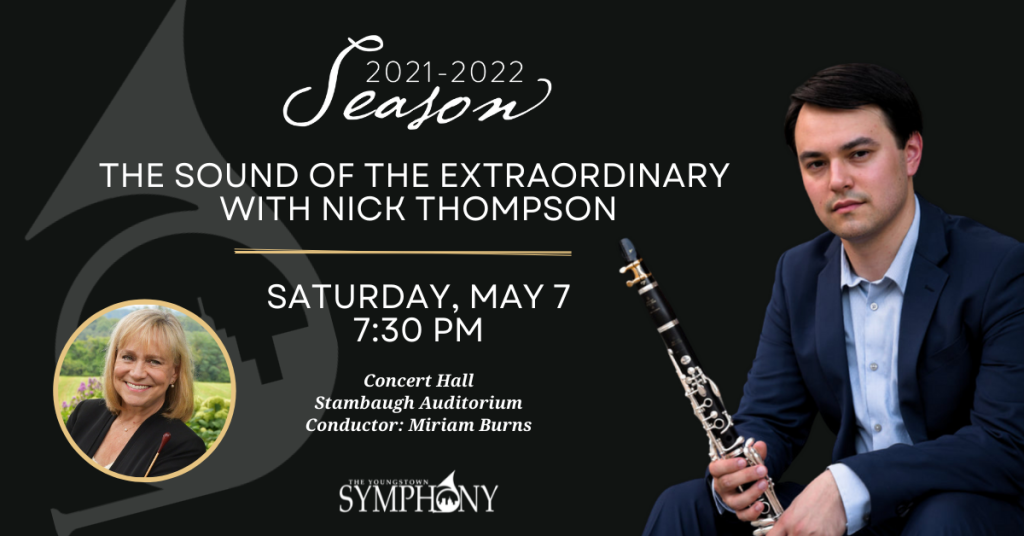 Experience the Sound of the Extraordinary, an Evening of Tchaikovsky and Mozart
Your Youngstown Symphony Orchestra returns to the Concert Hall at Stambaugh Auditorium on Saturday, May 7 at 7:30pm for an evening of classical works by Tchaikovsky and Mozart. Principal Guest Conductor, Miriam Burns, will lead the concert featuring soloist YSO Principal Clarinet, Nicholas Thompson (Clarinet Concerto in A major, K. 622). Individual tickets are on sale now. 
Nicholas Thompson, a versatile orchestral and chamber musician, currently holds the Principal Clarinet seat with both the Youngstown Symphony Orchestra and the Lima Symphony Orchestra. Thompson is a founding member of the Chamber Artists of Southeast Michigan – a chamber music collective founded in 2017 committed to bringing an exceptional cultural experience to Southeast Michigan through live performance, scholarship opportunities, and educational engagement.
Returning to the podium, is award-winning conductor, Miriam Burns. "In May, the concert will end with the Tchaikovsky 5, which is one of my all-time favorite pieces, the audience, I'm sure, will love it," said Burns, in an interview on The 1926 Podcast. Ms. Burns is currently serving as Artistic Director and Conductor of the Paragon Philharmonia in Northern Virginia, Visiting Professor and Director of the Orchestras at The Ohio State University and continues as Music Director of The Orchestra of the Redeemer in New York City where she resides. 
Single tickets for the May 7th concert range from $42 to $62, inclusive of all fees. Discounts are available for seniors and students. Tickets are available Monday through Friday, 10:00 AM – 5:00 PM by calling 330-259-9651, or in person at the DeYor Performing Arts Center. Tickets are also available 24 hours a day online at: youngstownsymphony.com, deyorpac.org, and stambaughauditorium.com.
Sponsorship packages are available and include program advertising, premium tickets, and invitations to exclusive VIP events. For more information, contact JoAnn Stock, Chief Development Officer at fundraising@youngstownsymphony.com or by calling 330-744-4269.