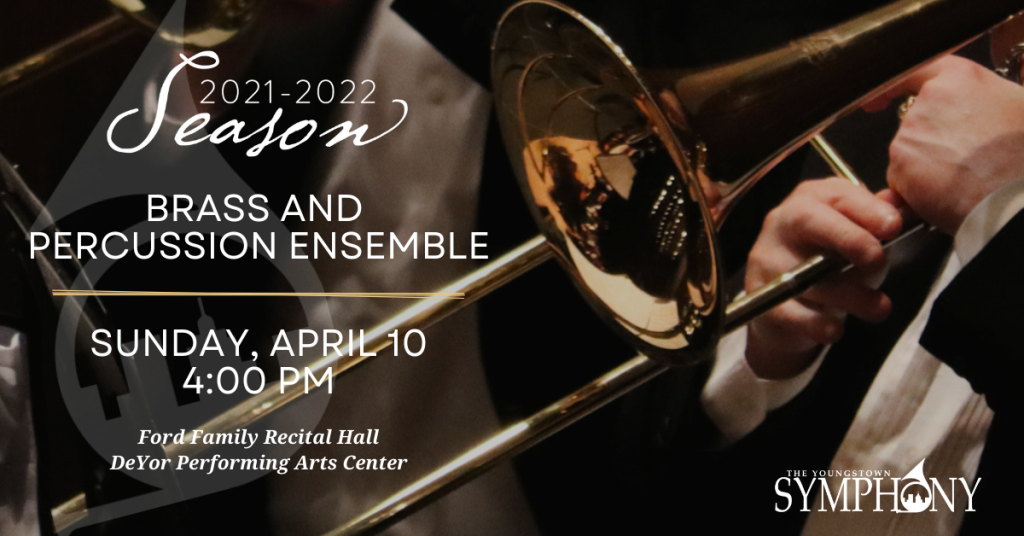 April Concert to Highlight the Youngstown Symphony's Brass and Percussion Sections
On Sunday, April 10, 2022, at 4:00 PM, the Youngstown Symphony Orchestra will present a concert of Brass and Percussion in the Ford Family Recital Hall at the DeYor Performing Arts Center. This thrilling concert will feature sections of the orchestra that are many times seated behind the strings.
The repertoire will feature Fanfare for the Common Man by Copland, Symphony for Brass and Timpani by Haufrecht, Irish Tune from County Derry by Grainger and Allen, and more.
"The members of the Youngstown Symphony brass and percussion sections are excited to bring an eclectic performance to the Ford Recital Hall stage. Get an up-close experience with a program of esoteric compositions for percussion ensemble, glorious works for brass quintet, and rousing pieces for the full, combined group," says Heather Johnson, concert coordinator and Acting Principal Horn player.
Single tickets for the April 10th concert range from $42 to $62, inclusive of all fees. Discounts are available for seniors and students. Tickets are available Monday through Friday, 10:00 AM – 5:00 PM by calling 330-259-9651, or in person at the DeYor Performing Arts Center. Tickets are also available 24 hours a day online at: youngstownsymphony.com and deyorpac.org.
Season Sponsorship packages are available and include program advertising, premium tickets, and invitations to exclusive VIP events. For more information, contact JoAnn Stock, Chief Development Officer at fundraising@youngstownsymphony.com or by calling 330-744-4269.