Youngstown Symphony Society Annual Appeal
On September 19, 2021, our Youngstown Symphony Orchestra returned to the stage to launch the 2021 – 2022 season and we are thrilled with the response from our community. Despite the challenges of the past nearly two years, we are on the path to a bright future rooted in history and supported by new-found partnerships.
Last December, the Youngstown Symphony Society and the Henry H. Stambaugh Auditorium Association entered into a management and operations agreement. The goal of the agreement is to share services, reduce costs and to generate additional revenue through maximized usage of both facilities. This partnership provides opportunities to better preserve the history of these two organizations as well as to increase resources to support the missions of both organizations and plan for the future.
The support of our donors has been more important than ever during the challenges presented by the pandemic. Because ticket revenue covers only a small portion of the programming and operating costs, the Youngstown Symphony Society relies on philanthropic support to help to provide Symphony concerts as well as community outreach and educational activities. The Youngstown Symphony Society is committed to providing the highest quality musical experience at a reasonable rate and to make our programming accessible to all. With the continued support of our donors and our community, we will do so for generations to come.
Please consider a gift to our annual appeal and help to support the Youngstown Symphony Society. Although a donation of any amount will be greatly appreciated, gifts of $100 or more will be included in the Youngstown Symphony Annual Giving Society. Simply complete the downloadable gift form below and mail to DeYor Performing Arts Center, 260 West Federal Street, Youngstown, Ohio 44503. All members of the Giving Society will receive benefits including:
Special listing on the Youngstown Symphony Orchestra website and in event program booklets
Advance notice of upcoming events and early access to tickets
Early VIP entrance for select events
Invitation to all Youngstown Symphony signature events
Invitation to an exclusive Youngstown Symphony Society donor recognition celebration


If you have any questions or need additional information, please contact JoAnn Stock, Chief Development Officer, at fundraising@youngstownsymphony.com or by calling 330-747-5175.
Your support will be greatly appreciated.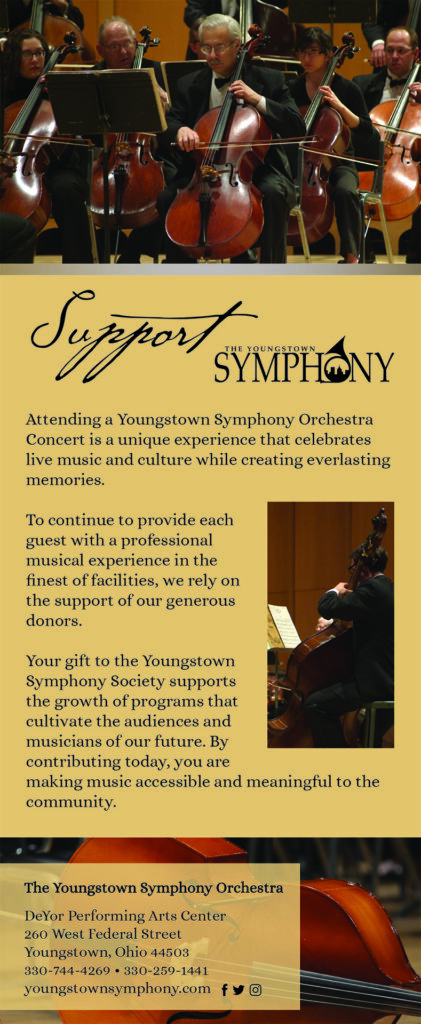 With gratitude, the Youngstown Symphony Society gratefully acknowledges the support of these individuals, institutions and corporations whose annual gifts help to make possible the Society's programming and educational and outreach activities.
$10,000 and above
Pollock Personal Foundation
$5,000 – $9,999
Jane Holly Love Trust (in memory of Catherine Wood Powers, Emily Park Powers and John Weed Powers)
The Schwebel Family Foundation
The Williamson Fund of The Youngstown Foundation
The Youngstown Foundation
$2,500 – $4,999
Dr. Chester and Mrs. Mara  Amedia**
Dr. and Mrs. Gregory George
Karr Charitable Foundation
$1,000 – $2,4999
An Anonymous Donor
The Cafaro Foundation
DeSalvo Construction Company, Inc.
Jennifer Lloyd and John Dunne
Fibus/Hendricks Family Foundation
Carl G. James
Roger and Gloria Jones Family Charitable Fund
George and Carolynn Mitchell
Frances Schermer Charitable Trust
Mrs. Clarence R. Smith, Jr. 
Bernard and Elaine Soss Family Charitable Trust
Mr. and Mrs. Richard Taylor
Mary Place Thomas
Mr. Bruce Zoldan (in honor of Patricia Syak)
$500 – $999
Adam Bondor, P.E.**
Mr. John Callery
Mr. James Dascenzo**
Dr. and Mrs. Ronald L. Gould
Thomas Grahek
Mr. and Mrs. Dan Havalo
Mahoning County Convention & Visitors Bureau
Michael and Loraine Mangine
Andy & Barbie Marakas
Sam D. and Terry  Roth
Mr. and Mrs. Lowell Satre
Rev. Msgr. Robert J. Siffrin
Alan and Linda Stiver
Ms. Dorothy Palguta Tesner**
$250 – $499
Randy and Beth Alexoff
Dr. and Mrs. J. James Anderson
Mr. Willard Boyd
Mrs. Mary Chuirazzi and Dr. Christopher Chuirazzi
Elizabeth M. Crowll
E.T. Deiderick
Mr. and Mrs. Thomas A. Downie
FirstEnergy Foundation
Mr. Paul Grapperhaus (in memory of Emily Powers)
Mr. Paul Homick**
Ann Beck Johnson
Mr. and Mrs. Thomas Logan (in memory of Randall Craig Fleischer)
Ms. Judy K. Powers (in memory of Emily Powers)
Dr. and Mrs. Charles Singler
Margaret P. Travers (in memory of Emily Morgan Powers)
Atty. William and Carole Weimer
$100 – $249
Georgia Barkett
William and Nancy Beadle
William & Myra Benedikt
Mr. Don Booth
Rev. Richard A. Brobst
Barbara Brothers
Martha L. Bushey
Carol Fire-Caban
Canteen Service
Mr. Stephen Carattini
Patricia Cernica
Atty. Diane L. Chermely
Dolores Ann Despetorich
Tom & Martha Dickinson
Virginia L. Dineen
Dr. and Mrs. Ray Duffet
Mr. and Mrs. Roy A. Dray
Martha Ann Eicher
Atty. Bruce and Suzyn Schwebel Epstein
John and Judy Fleming
Maryellen Fleming
Charlotte Bahr Floyd
David G. Frank
Dale & Lisa Fronk
Janet Hazlette
Mr. and Mrs. Gary Johnson (in memory of Emily Powers)
Margaret Klein
Fred & Eva Maria Koknat
Mercy and Robert Komar
Elliot & Christine Legow
Dorothea M. Lipp
Frances Lynn-Into
Edward & Cinthia Madej
Michael & Loraine Mangine
Rev. Thomas McCarthy
In Memory of Becky J. Meredith
Mr. and Mrs. Albert Miller
Paul and Cathy Milligan
Mrs. Joan S. Motheral
Ms. Natalie Paull (in memory of Norma Jean Gavini Paull Powers)
Michael E. Resek
Nick and Diane Rosian
Florine Fish Rusnak
David and Madelon M. Sabine Family Fund
Frank and Judy Sees
Janis K. Seidler
August and Maria Selak
Carol and Bruce Sherman
Tom and Katie Shipka
Dr. Kishmu J. Shipmon
Morris and Esther Simon Philanthropic Fund of the Youngstown Area Jewish Federation
Ms. Gloria Slocum
Marilyn and Stephen Sniderman
Dr. and Mrs. Walter Spikell
JoAnn and Martin Stock
Jorine E. Stone
Bill Wade
*The above lists names of donors who have made unrestricted gifts, pledges and in-kind donations of $100 or more since July 1, 2021 thru February 28, 2022.
** Member of the Youngstown Symphony Society Board of Directors.